New partnership with Bugaboo prams making family holidays even easier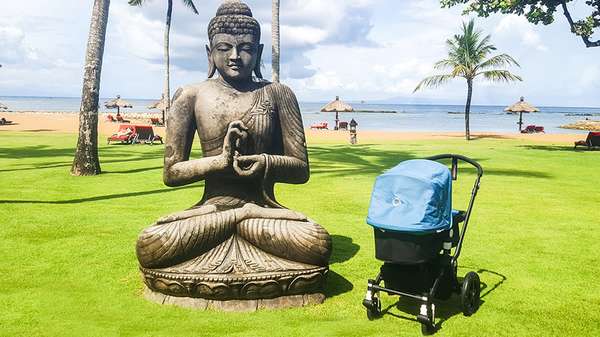 In a move which once again positions the award-winning Bali resort as the top pick for travelling families, Club Med is proud to announce its latest partnership with renowned Dutch mobility company, Bugaboo. Adding to the long list of services already included for little ones, the all-inclusive holiday provider now offers Bugaboo prams within its Club Med Bali resort, ensuring a hassle-free holiday for families with young children.
Bali continues to be a favourite destination for Australian families with over 6,500 guests (47,600 hotel nights) visiting Club Med Bali alone last year. Meeting the demands of modern travelling families and alleviating the need to bring their own baby equipment, Club Med provides many helpful family services and in-room amenities - known as a Baby Welcome - including a sleeping cot, baby bath, bottle warmer and now – Bugaboo prams – designed to make holidays easy for families.
Guests of Club Med Bali will now have access to a number of Bugaboo's stylish prams including the 'Cameleon3 Kite', a versatile and easy to use pram that adapts to various terrains. This pram will allow parents to travel effortlessly between the footpaths around the resort, across the manicured lawns to the children's playground or down to the sandy beach for a dip in the ocean.
Madeleine Clow-Suares, General Manager, Club Med Australia and New Zealand says, "At Club Med, we believe family holidays should be fun, memorable experiences, not stressful ones. We strive to create a happy environment for the whole family and we're pleased to be partnering with Bugaboo to add to our current family services, helping parents have the easiest holiday possible."
On the exciting partnership, Justine Furman, Australian Country Manager of Bugaboo says, "Bali continues to be a must-visit destination for Aussie families but we know flying a pram overseas can be a hassle. Club Med are known for making holidays easy for families and we're proud to support this through offering our products within their Bali resort alleviating this common pain point. We love nothing more than seeing a well-travelled Bugaboo with sand or dirt on its wheels and a story to tell. We're looking forward to helping families make memories that will last them a lifetime."
Further ensuring a hassle-free and enjoyable holiday for the whole family (including time-out for parents), Club Med Bali's all-inclusive package includes Kids Club for 4-17 year olds (services for 4-23 month available at extra cost) with highly-trained and certified G.Os (staff) featuring age-appropriate activity programs focused on making friends and creating memories. The resort also includes 24/7 access to baby feeding areas and changing rooms, Baby Corner in the restaurant featuring high chairs and an array of baby food and equipment to prepare baby meals such as a blender, steriliser, microwave and more. It's clear to see why this resort has been voted Best Family Resort in Bali by Holiday with Kids and Out & About with Kids magazine readers.
The Club Med Baby Welcome is included within Club Med's renowned all-inclusive packages which also include gourmet meals and snacks with international delicacies and traditional local cuisine, an open bar, a vast selection of activities, entertainment and Kids Clubs for 4 year olds and up, in addition to accommodation – taking the planning out of holidays, so families have more time for fun.
Your next Family Holiday is waiting you just here!